FOUR YEARS AGO, WE ANNOUNCED we were embarking on a "public" kitchen renovation project. We already had featured a number of kitchen projects in this magazine, and we aimed to record the redesign process and the rationale behind it; cabinet and appliance choices; the construction process; and, ultimately, present the final product in these pages.
Despite the fact that we were totally inexperienced with major house renovation projects and blissfully unaware of the things that could go wrong, we were determined to get the project done while we could. Luckily, a neighbor/interior designer dropped in on occasion with advice, encouragement and assurance.
It may be many a homeowner's dream to live in a classic, (late) mid- century California-style ranch with Japanese elements, essentially untouched since the day it was built in 1968. It's something else entirely to face the reality of updating a house designed and built when electricity and fuel were cheap and design often won out over conservation or the use of sustainable materials.
That is especially true when it comes to kitchens. To say we've come a long way is an understatement: Advancements in technology, electronics and construction materials and methods have made updating a period kitchen an adventure in possibilities, to say the least.
(The [cabinet] doors had to be pushed into the latch with just the right touch or the latch would not spring closed—a Zen thing that not everyone could master.)
We knew we had to do a major renovation the minute we bought the house—not because the design didn't match our needs or aesthetic, but because it had to be done. Everything in the kitchen but the refrigerator and dishwasher dated from the time of construction, including the electric range/microwave unit. (We never tested for microwave leakage, but two of the four resistance-coil elements on the range worked intermittently and the oven could take an hour or more to heat up to 400 ̊F—and that was a gamble.)
The original cabinets—and there were plenty of them—were well- constructed plywood boxes covered in wood-patterned Formica and generally in good shape, except that the doors featured the once-popular "push-open/push-lock" latch design. That system drove more than a few guests screaming to the living room in frustration. (The door had to be pushed into the latch with just the right touch or the latch would not spring closed—a Zen thing that not everyone could master.) There were no "soft-close" drawers or doors, no sliding organizers, no fancy inserts—just solid cabinets and countertops with a few more years left in them; they were donated to Habitat for Humanity in Newburgh for reuse.
We had several objectives in redesigning the 190-square-foot kitchen layout:
improve the flow of the kitchen/den and create a functional gathering space by removing a wall so that the spaces became unified;
replace the aging appliances and plumbing fixtures with modern, more efficient units;
eliminate the redundant sliding door in the kitchen leading out to the deck and replace it with a window;
maintain harmony with the overall design and aesthetic of the rest of the house.
Replacing the appliances was the easy part—we shopped by Consumer Reports. Unfortunately, most of the makes and models we went shopping for were not carried by local independent stores. (One exception and an important addition was a high-efficiency fan/vent to eliminate odors. We found a quiet, unobtrusive stainless Faber unit that vents straight up and out at Michael's Appliances in Middletown.) Purchasing appliances that we could afford was our one concession to big-box retail. On the flip side, we generally shopped the sales for the best prices and the retailers held the units until we were ready for them.
The transformative point of the project was enlarging what had been only an 18-inch pass-through between the kitchen and den into a "walk through" (reinforced with a new header and supporting post). Suddenly, the size of the kitchen seemed to double, and the den, which we (fondly) had referred to as "the cave" because of the lack of light and limited access, became an inviting and useful space. That decision meant repositioning the sink, refrigerator and dishwasher plumbing, but since most of the kitchen subfloor was pulled up to inspect for old leak damage (there was none), rerouting the plumbing was not a long or difficult task.
Everyone who entered the kitchen at one time or another had an opinion about what should go where, and why.
Determining the final overall layout of the kitchen proper was a long (and sometimes contentious) process— everyone who entered the kitchen at one time or another had an opinion about what should go where, and why. Ultimately, we listened patiently to everyone and each other, then waited to see which ideas held up over time.
If there is a tipping point in a kitchen renovation project, it most likely is with the cabinets—if upgraded appliances cost more than anticipated, the difference often will come out of the cabinet budget. This was one area, however, where we would not compromise. (Why should we remove high-quality cabinets that have lasted well over 40 years and replace them with junk?)
W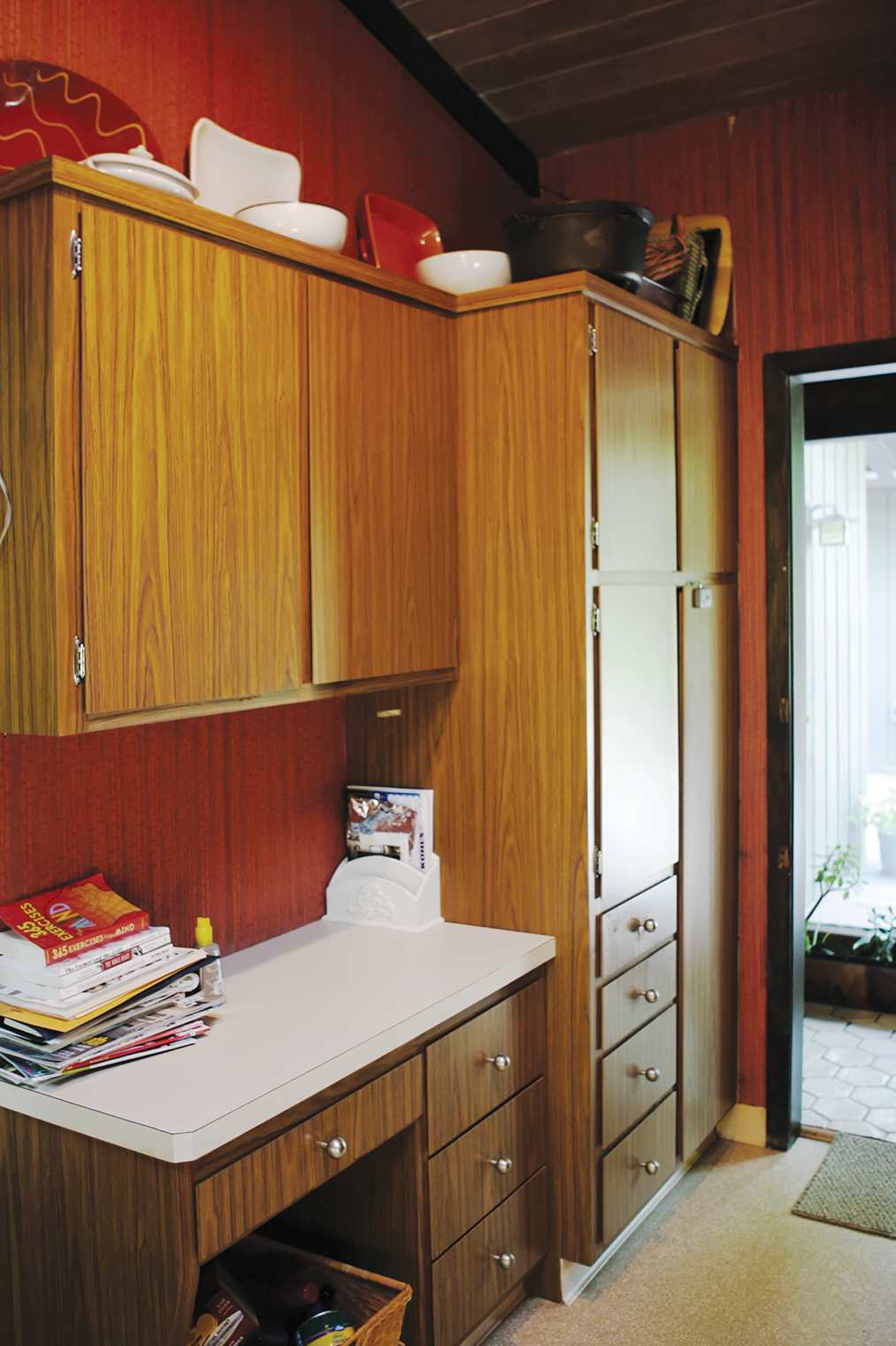 e wanted plywood boxes with flat fronts and book-matched walnut. Period. (We're surrounded by walnut trees.) Many of the independent kitchen design firms we consulted were quite helpful with ideas and suggestions, but none offered the right combination of design, construction or price, and some obviously were more in the cabinet sales business rather than kitchen design.
As it turned out, we found our answer in a local (Newburgh) cabinet maker, whose quality construction and design details met every one of our requirements—at a price very close to what semi-custom, factory-made units would have cost.
Our visits to Porcelanosa in Ramsey, N.J., led us to the company's proprietary countertop material, Krion®, an acrylic composite that is non-porous, non-burnable and naturally antibacterial. Fabricated as a one-piece unit (no corner seam), the low-maintenance surface is smooth and uniform. It was exactly what we were looking for, but it wasn't cheap.
We made no provision for a microwave, and have no plans to get one. (Anybody out there want half a dozen bags of Newman's Own popcorn?)
Our commitment to adaptive reuse entered the project when, at the last moment, demolition revealed something we hadn't considered: Adapt the unused laundry room space that intruded into the kitchen area. A shallow closet was created on the hall side; the remaining space was turned into an alcove in the kitchen to fit an additional run of cabinets with a small sink. The area would be ideal for prep, bar and as a transition area between rooms.
With advice from a theatrical lighting expert friend, the overall lighting was improved with arrays of dimmable LED "high hats" in the den and kitchen. (This was not in the original renovation plan, so aside from the cost of the additional fixtures, there were switches, boxes and wiring needed. What had been scheduled as a two-day job became a four-day job.)
The flooring is Marmoleum®, a modern adaptation of linoleum. A linseed-oil based product that is naturally bacteriostatic, it's resilient (widely used in industrial and commercial applications) and easy on the feet (though only one-tenth of an inch thick, it has a "bounce" not present in tile or wood). Here was a lesson learned: If something can go wrong for any reason, it will. Though we decided on the flooring early on, we didn't place the order until close to when we needed it. Of course, it was "out of stock." (Translation: a four-week delay.)
Finally, we replaced the old appliances with new, Energy Star®- rated models where available (stoves are not rated this way). The Samsung refrigerator is a four-door, four-section model—one section can be used as either a refrigerator unit or freezer as needed. The dishwasher, also star rated, is an ultra-quiet Kenmore. The heavy duty Insinkerator® unit also is an ultra-quiet model. (Though we are die-hard composters, the vintage Insinkerator® that came with the house won us over.) One nifty water- saving device new to us is the battery-operated "touch stream" unit that turns the water on or off simply by touching any metal part of the unit.
One debate started on day one and lasted through the entire project: what kind of stove/oven would be best. This is one kitchen element about which literally everyone seems to have an opinion. Since propane already was piped to the house, we had the option to convert to a propane cooktop with either a propane or electric oven. On the other hand, modern technology has advanced to the point where induction—electro-magnetic stimulation of metal to create heat—is both affordable and practical. It took a leap of faith and the recommendation of several chefs, but in the end, technology won.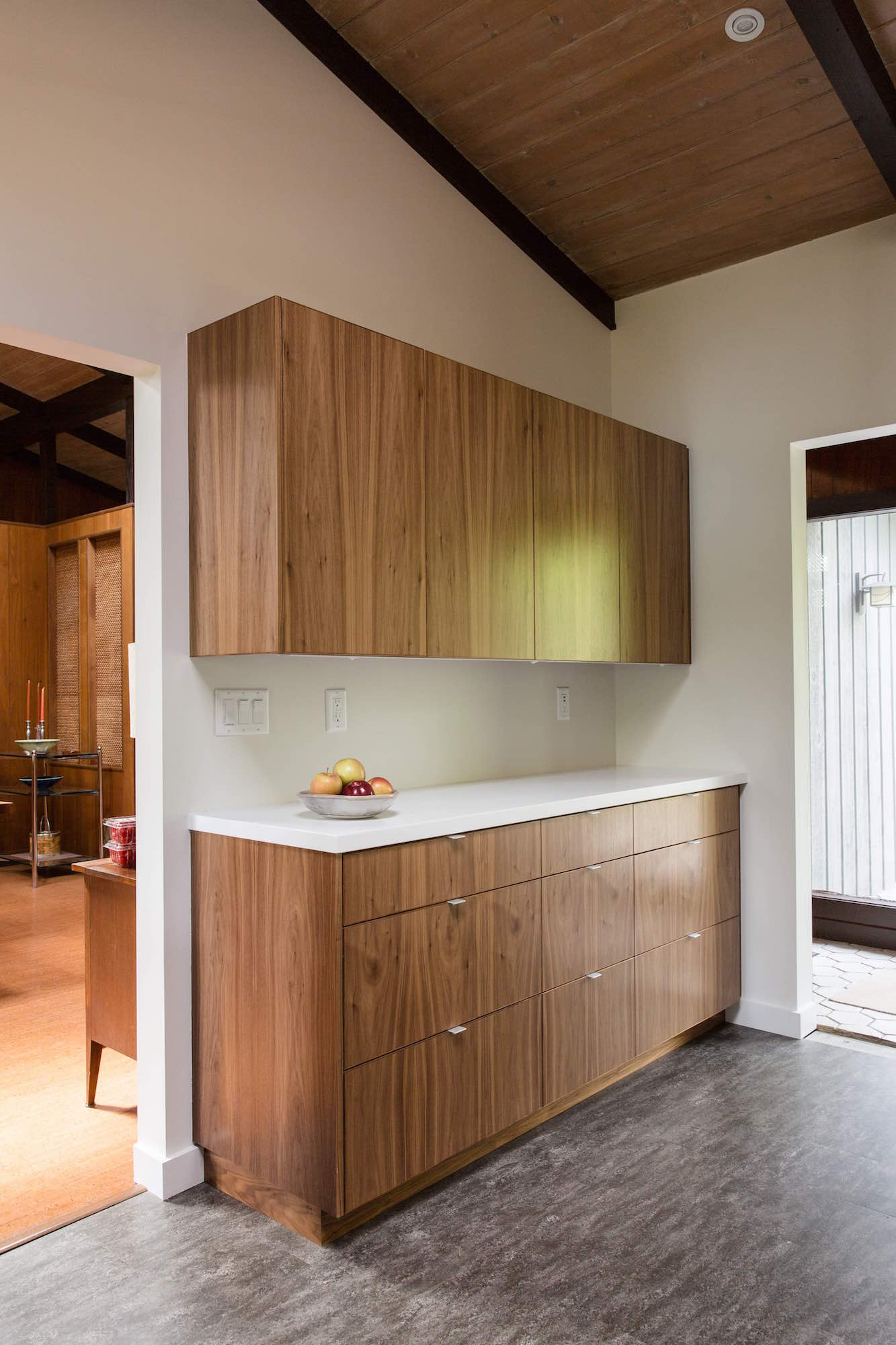 The Samsung® induction range/convection oven unit so far has proved to be a joy to work with. Highly efficient induction converts 90 percent of the energy it uses to heat, while conventional electric heating coil units convert only about 50 to 60 percent of the energy they use to heat; gas units are lucky to hit 40 percent efficiency. The efficiency translates to very fast startup time and an even, extremely controllable heat. The downside is that pots must be iron or steel to work on the stove—no aluminum or copper need apply. (Luckily, the majority of our pots are cast iron or had steel bottoms, though we still need a kettle.) The convertible single/double convection oven is likewise efficient and practical. So far, our short-term evaluation is excellent for both stovetop and oven. We made no provision for a microwave, and have no plans to get one. (Anybody out there want half a dozen bags of Newman's Own popcorn?)
What did we learn? First, like W.C. Fields, if we had our lives to live over, we'd live them over a liquor store.
Aside from a few minor details, the kitchen is finis. Once the trigger was pulled, demo to final alcove sink installation was about eight weeks. We've decided to live with the space for a while before we commit to building an island; a stainless steel worktable is a serviceable substitute for the moment. Overall the bright, airy space receives positive grades— and it's got us back cooking together again.
What did we learn? First, like W.C. Fields, if we had our lives to live over, we'd live them over a liquor store. Barring that, we learned that not every decision—especially if it's about kitchen cabinets, floor color or appliance finish—is life altering. (Almost anything can be changed if you can afford it.) We learned to not let ourselves be rushed into a decision, even though it could mean altering the construction schedule—it's worth waiting to get what you want.
We learned that even though a competent general contractor may be in charge of everything, a project like this involves a significant amount of personal time devoted to decisions, planning and oversight. We learned that lighting matters, and that switch placement should be carefully planned. We learned that others' questions can be instructive, but, more importantly, we learned that nobody has all the answers.
Finally, we learned that, after all, it's just a kitchen. We like the way it turned out. In the end, that's what matters.
General Contractor
Alan Sproul (Goshen)
Cabinetmaker
Jon Reichert/Box Designs (Newburgh)
Lighting Consultant
Deke Hazirjian (Cornwall)
Flooring
Mountainview Floor Covering (New Paltz)
Countertops
Porcelanosa (Ramsey, NJ)
Sinks
N&S Supply (Wappingers)