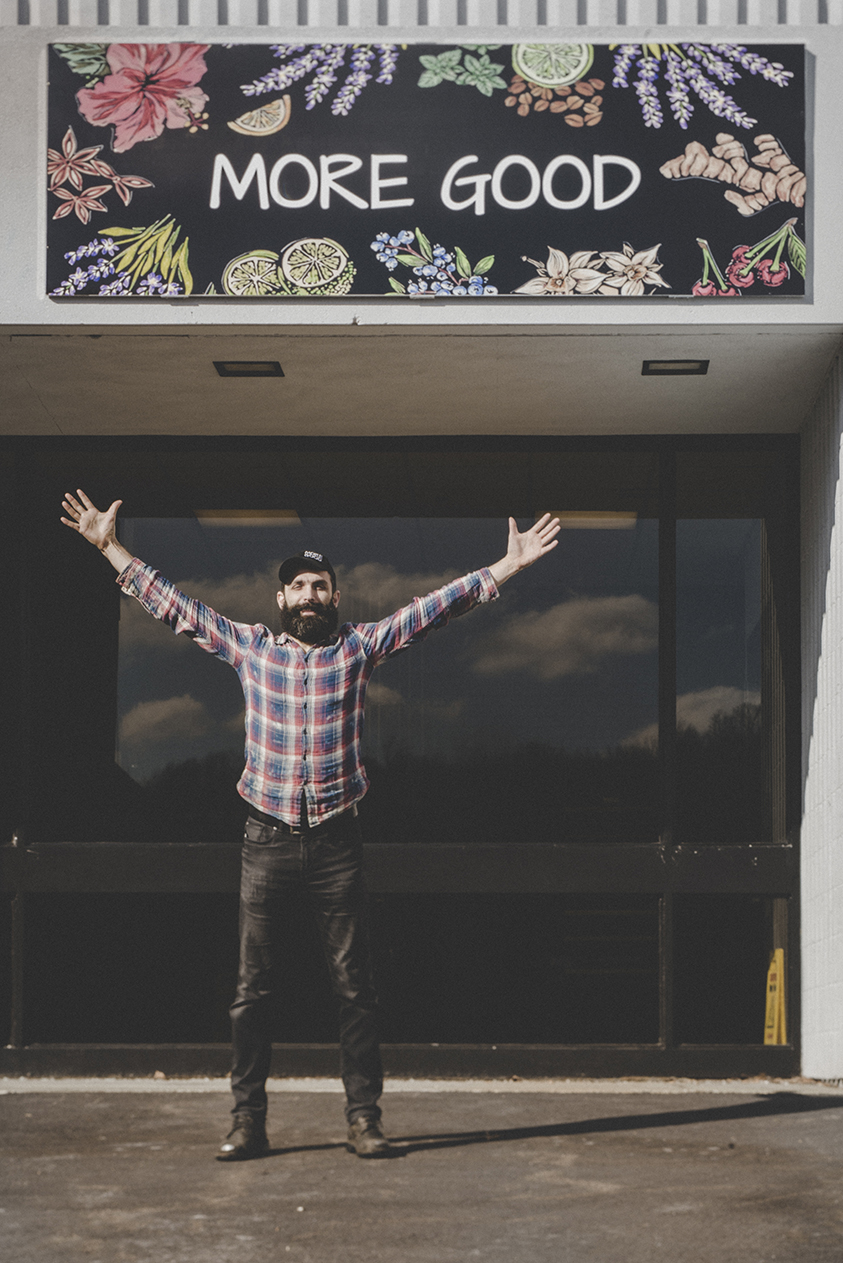 Jason Schuler was behind the bar at Gleason's in Peekskill during the 2012 holidays when one of his regulars asked to buy, as gifts for his friends and family, nine bottles of a simple syrup Schuler had created for one of his cocktail programs.
From such simple events are revolutions born.
Schuler, who has a business degree from Marist, soon got $2,000 in seed money from his best friend (the first of many modest contributions from friends and family) to startup and incorporate a beverage manufacturing company that creates hand-crafted soda syrups, bitters, tea and tisane concentrates using organic ingredients. (That initial nine-bottle request, incidentally, is currently available as Cassia Kreme soda syrup, a cinnamon-and-vanilla cola concoction.)
A Hopewell Junction native, Schuler spent about two hours coming up with a name for his company, Drink More Good. "Not only do our customers get the opportunity to drink more good into this world, but they get to drink more good into their bodies," he says. "We treat good as a noun."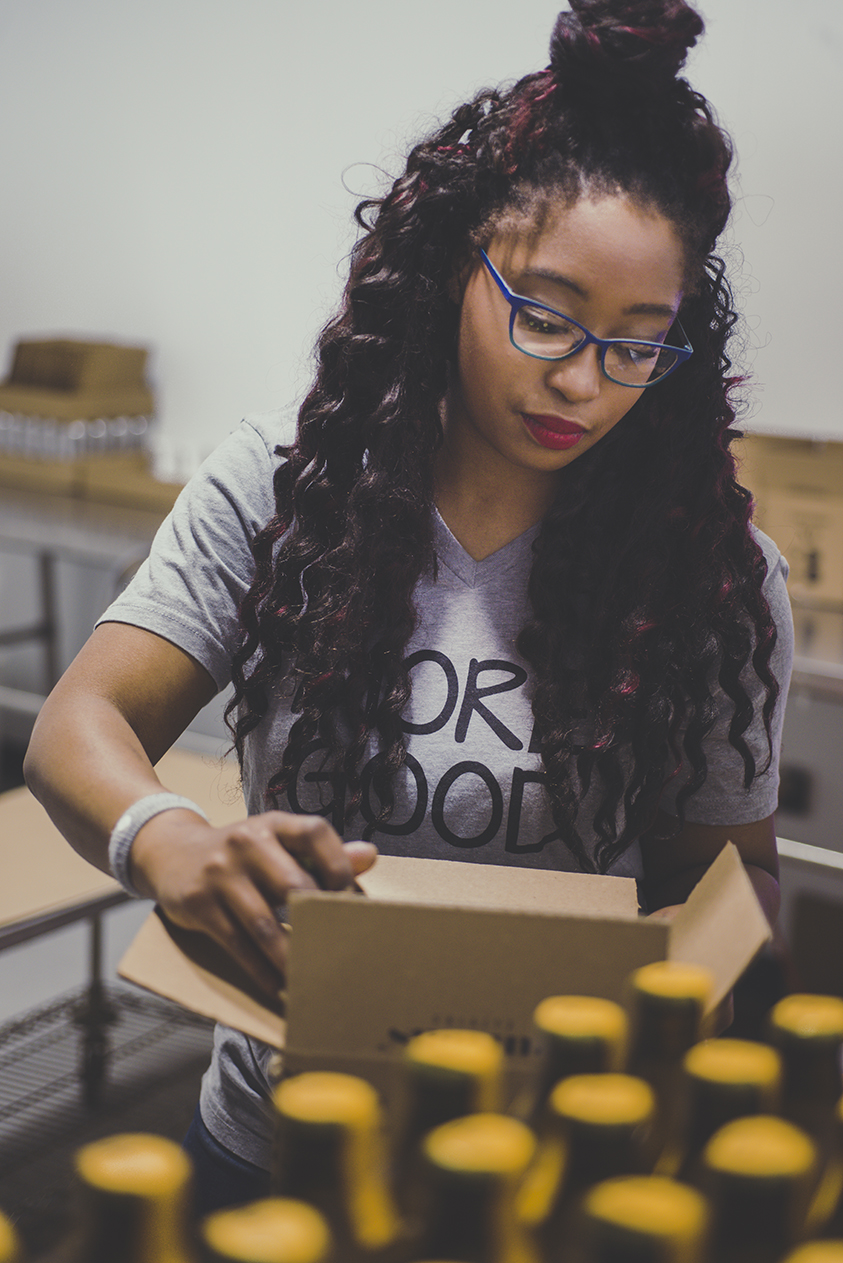 Six years after hand-bottling his first Drink More Good product in a cramped, rented kitchen, Schuler was producing his own products as well as those of eight other emerging beverage companies in a 10,000-square-foot space in the former IBM complex in East Fishkill. Early in 2019, the company, in the midst of its first major capital drive, began planning to expand to 27,000 square feet and increasing its production capacity to more than 10,000 gallons per day, up from its current production of 5,000 gallons per week. What started as a one-man shop now employs 25 people (a dozen of them full-time) and is still hiring.
His success hasn't gone unnoticed. In 2017, Drink More Good was named the Business of the Year by the Think Dutchess Alliance for Business. Think Dutchess CEO Sarah Lee says Schuler has "invested his whole self in the company."
Schuler, 37, says these are "exciting times" for the beverage industry. While sales of traditional soft drinks are faltering, adult artisan and craft sodas are coming on strong, and innovators are finding success with healthful ingredients and reduced sweetness.
Schuler fits the profile. He developed his syrup recipes while still tending bar, and tested his beverages on patrons at local farmers' markets on weekends. It inevitably sold out.
"For eight months I was bartending four nights a week from 6 until midnight, then locking the doors of Gleason's and producing my syrups by hand using their kitchen from 1 until 6 in the morning. I'd get home by 7, make my son some breakfast, sleep for a few hours, then do it all over again," Schuler recalls. Eventually, "It got to the point where it was no longer sustainable—there wasn't a kitchen available or accessible to me in the area, so I built my own."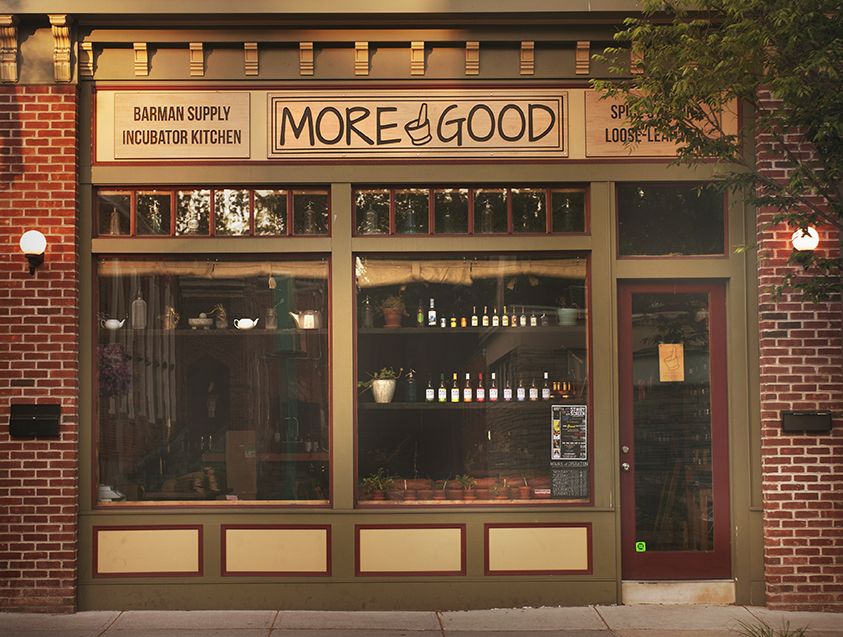 In 2014, Schuler leased a 2,000-square foot space at 383 Main Street in Beacon. A retail storefront featured the herbs, spices and other ingredients Schuler used to create his syrups. He covered 70 percent of his overhead by subletting the kitchen to other food-focused small businesses. Schuler quit his bar job and More Good stepped up its marketing efforts.
In June 2014, More Good syrups were given shelf space in Whole Foods' new Albany location. Schuler did in-store demonstrations there every week; by March 2015, product was was on the shelves of all 33 Whole Foods stores in the Northeast.
However, More Good's limited production capacity made it progressively more difficult to meet growing demand. Schuler searched for a company that would take on his manufacturing. All the companies he found, though, required minimum order quantities that were unrealistic for emerging, undercapitalized entrepreneurs like him, or they could not meet his specifications (an issue he shares with other emerging beverage entrepreneurs). His solution was simple, if not predictable: He would tackle the job himself.
Now, using his own expertise and equipment, Schuler assists other entrepreneurial beverage makers with ordering, manufacturing and fulfillment ("co-packing"). His first co-packing client, Pilot Kombucha, came on board in mid-2016, just as the Brooklyn-based business was losing its lease. Schuler says more than 95 percent of his company's revenue now comes from co-packing clients.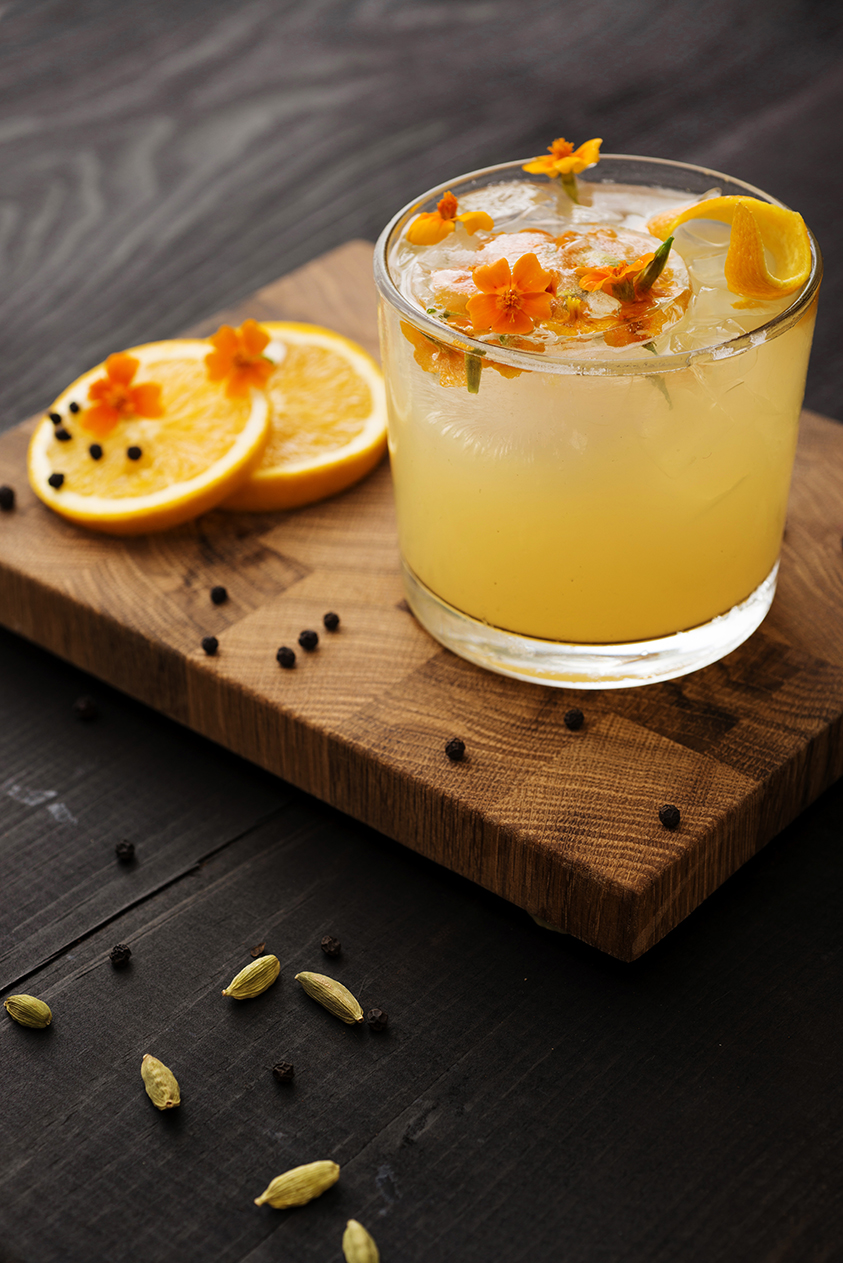 "Throughout 2016 and 2017, we saw a massive transformation in our budgetary model," Schuler says. "We went from a small emerging beverage brand that was doing some packing for other companies, to a beverage manufacturing company that had its own branded line of syrups and mixers."
In October 2017, More Goods' Beacon facility was becoming cramped and inefficient, and the company signed a lease with National Resources, a real estate development and investment company, to become part of a 300-acre commercial project in East Fishkill that will transform the former IBM complex into a unique live/work/play community. More Good moved its manufacturing operations there in June 2018; the store remains in Beacon and small food vendors continue to rent space there.
Schuler's syrups are used with seltzer, but many consumers "want a ready-to-drink product," according to More Good sales director Scott Brenner. This summer, the company plans to launch a line of canned craft sodas, as well as iced teas and flavored seltzer. Brennan predicts the demand will be "explosive."
Schuler also now sidelines as a consultant on recipe development and formulation. He worked closely on Curious Elixir No.1, "a bold but not boozy" nonalcoholic alternative to cocktails. Curious Elixirs owner John Wiseman says Schuler's approach is local and sustainable, adding, "You couldn't ask for a better partner."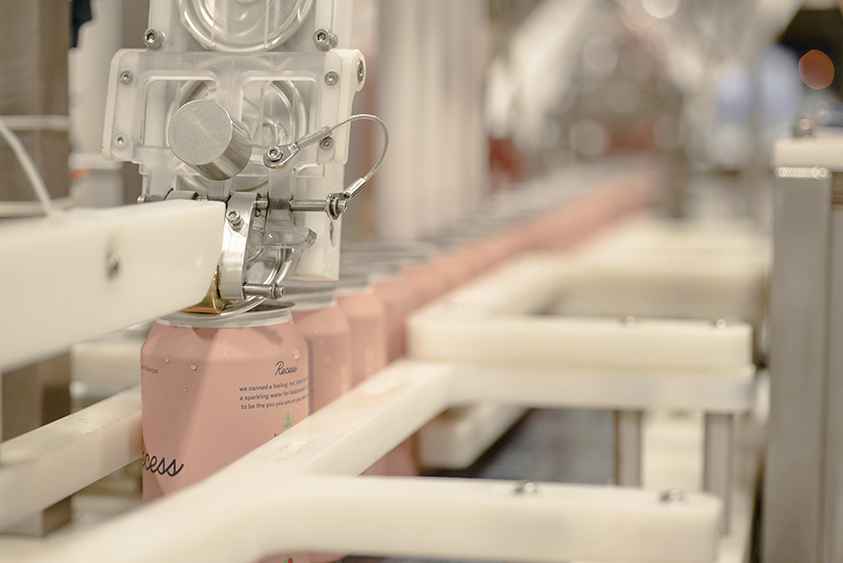 Schuler worked for eight months developing recipes with Benjamin Witte for Recess, a sparkling water infused with hemp extract, whose advertising touts its ability to leave consumers "calm, cool and collected." The brand had a successful launch in November. It, too, is produced in East Fishkill.
Before More Good took off, Schuler signed a contract promising to donate a portion of his company's net profits to a charity called Generosity.org that funds clean water for poor people around the world. To date, Drink More Good has donated about $36,000 to the charity—enough for seven wells serving 5,000 people. Ryan Pettus, the friend who donated the initial capital for the new venture, admits he "wasn't a big fan" of the donations, but Schuler was adamant. The commitment "motivated him to work harder," Pettus, who serves on Drink More Good's board, says. "He's always talking about what he wants to do."
Schuler's ultimate goal is to develop an "incubator model" for emerging brands that shepherds them from startup through high-volume production. He says there is lots of demand for More Good's services, but he worries that if More Good doesn't grow along with the demand, it could lose successful clients. Pettus worries that his friend may be working too hard. "The whole company is on him," he says. For his part, Schuler says he would be bored if he slowed down.
Schuler admits he has a passion for making syrup. "There is a lot of garbage out there," he says, and these days, as he deals with the challenges of a growing business, he is as much a chief executive officer as a "good maker." He doesn't spend as much time as he would like on the production floor (his "fun place") but, he jokes, employees always manage to find him with their questions.
Schuler's parents work for the company, too (he insists on paying them): His mother, Angela, is the bookkeeper; his father, Charles, does everything from order fulfillment to picking up supplies. Charles is particularly proud of his son, who he says is a "real go-getter," adding, "Whatever he sets his mind to, he will accomplish."
More Good
(845) 765-0115
drinkmoregood.com