When Michael Walsh and Jessica Beige hiked up Woodstock's Overlook Mountain in November 2019, it was as boyfriend and girlfriend. They came back down as future husband and wife. Two pandemic postponements later, their picture-perfect wedding at The Roundhouse in Beacon was all they dreamed of—and more.
Like many great love stories, theirs began by chance. Michael Walsh and a group of friends went out for a bite to celebrate someone's birthday, then decided to hit a nearby bar for a nightcap. At that point, Jessica Beige was invited to join by her college bestie, who'd known Michael since middle school. It soon came to light that the two had attended archrival Big Ten schools—she, the University of Michigan, and he, Ohio State. "I simply had to say something," says Jess.
Some playful trash talk ensued, followed by flirting and dancing. Their chemistry was evident. Phone numbers were exchanged, and Michael asked Jess out on a date.
An 8-year courtship ensued, including grad school for Jess, a series of Manhattan apartment rentals, and a cross-country move. Their love was real.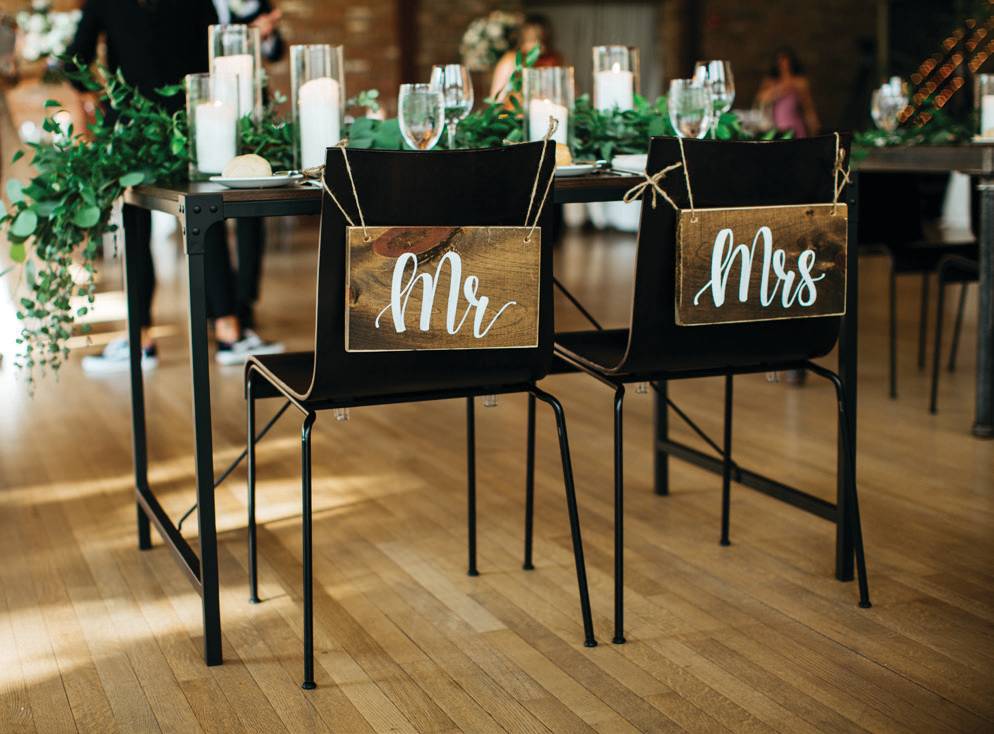 An Offer She Couldn't Refuse
One chilly weekend in November 2019, Michael and Jess went on a planned getaway to Woodstock. Michael knew how much Jess loved the outdoors and hiking and planned to propose at the top of the mountain. "I was convinced it [the proposal] would happen on the High Line in New York City, where we had our first date," says Jess. "Instead, he saw the weekend away as an opportunity to catch me off guard."
Inspired by a beautiful vista in a remote area, Michael spur-of-the-moment decided not to wait until they reached the summit to pop the question. He got down on one knee and asked Jess to marry him. No suprise, her answer was a resounding yes.
Overjoyed, the pair decided to keep hiking, putting off their first round of calls and texts to family and friends. "We wanted to keep the moment just between the two of us for a little bit longer," reflects Jess.
At the top, they started taking photos, including the obligatory snapshot of Jess holding up the hand with her new engagement ring. Another couple on the mountaintop spotted them, figured out what was up and came over to share a bottle of scotch they'd carried up for a toast. "I wish I could remember their names, but I'll never forget their contribution to our wonderful day," says Jess.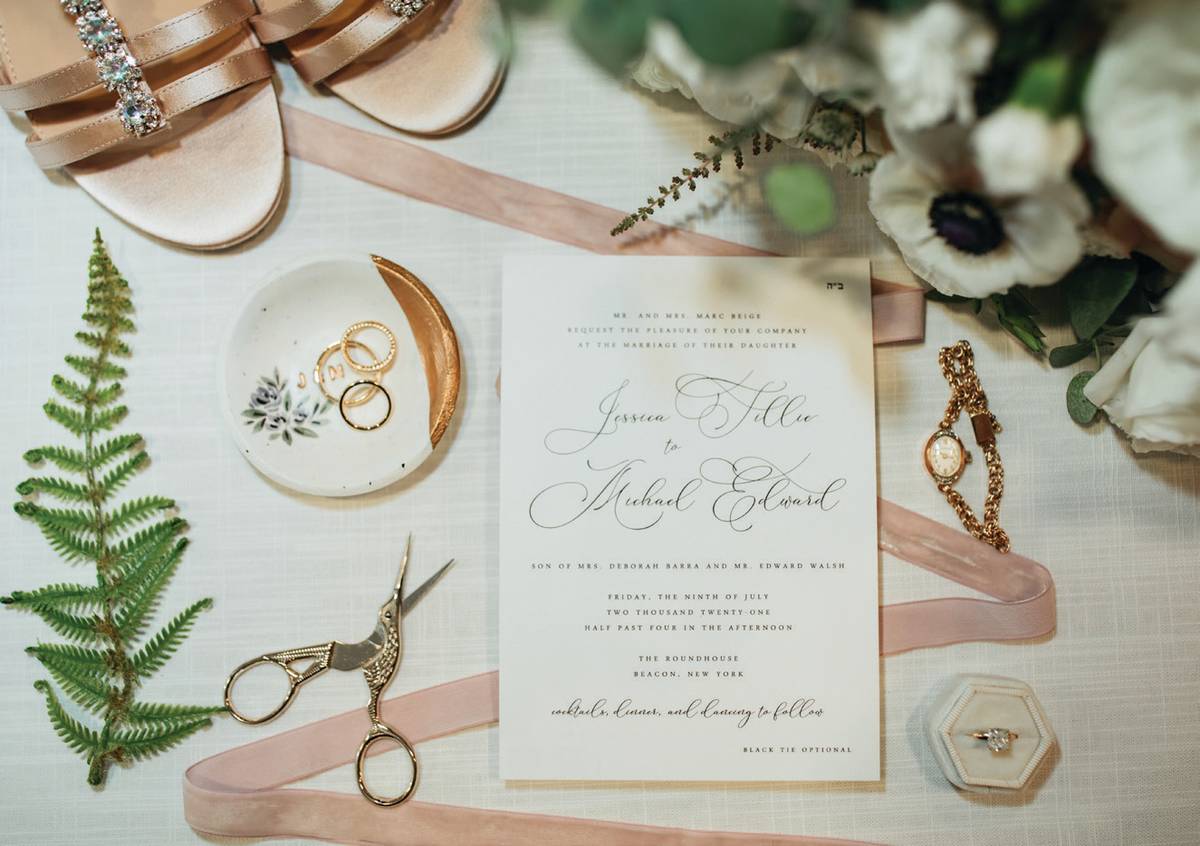 Best Laid Plans
In short order, the nature-loving city dwellers set their sights on a Hudson Valley destination wedding. After a round of extensive research scouting venues, poring over photos, and reading online reviews, they agreed on a short list of places to visit in person.
First up was The Roundhouse in Beacon. "My mom was so impressed, she thought we should stop looking," says Jess. "But I wanted to see a few more options, just to be sure."
It quickly became clear that The Roundhouse was by far their top choice. They loved everything about it: the spectacular grounds, the industrial chic décor, and laid-back upstate vibe. The catering options more than sealed the deal. "If you read the reviews online, they all say something about the amazing food," says Jess. "And every word is true."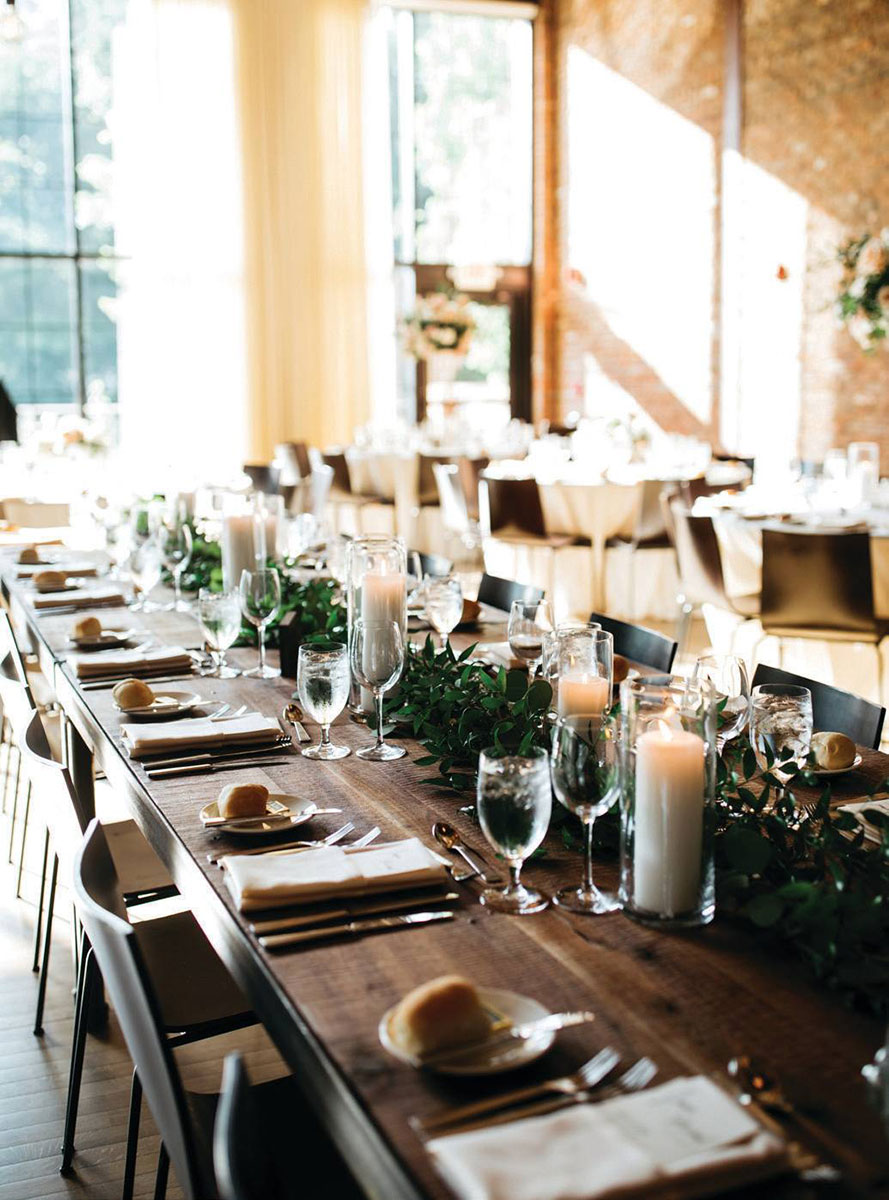 Oh, What a Night!
After an unintentionally long engagement because of the pandemic, Jessica and Michael exchanged wedding vows on July 9 of last year. Despite some questionable weather that morning, they were able to have their ceremony outside in the garden, exactly as they hoped. Then the festivities moved indoors, with the waterfall that sits right outside the building in full, glorious view through the floor-to-ceiling windows in the grand reception room. The food was delicious. The dance floor was packed all night. And the ending could not have been sweeter—thanks to dozens of huge, freshly made donuts from Glazed Over in Beacon.
Everything turned out perfectly. The alcohol was flowing, and the food was so delightful! We still get compliments on our cocktail hour—I just wish we ate more during it! But I did eat my entire dinner plus some of Mike's.
—Jessica Walsh, Bride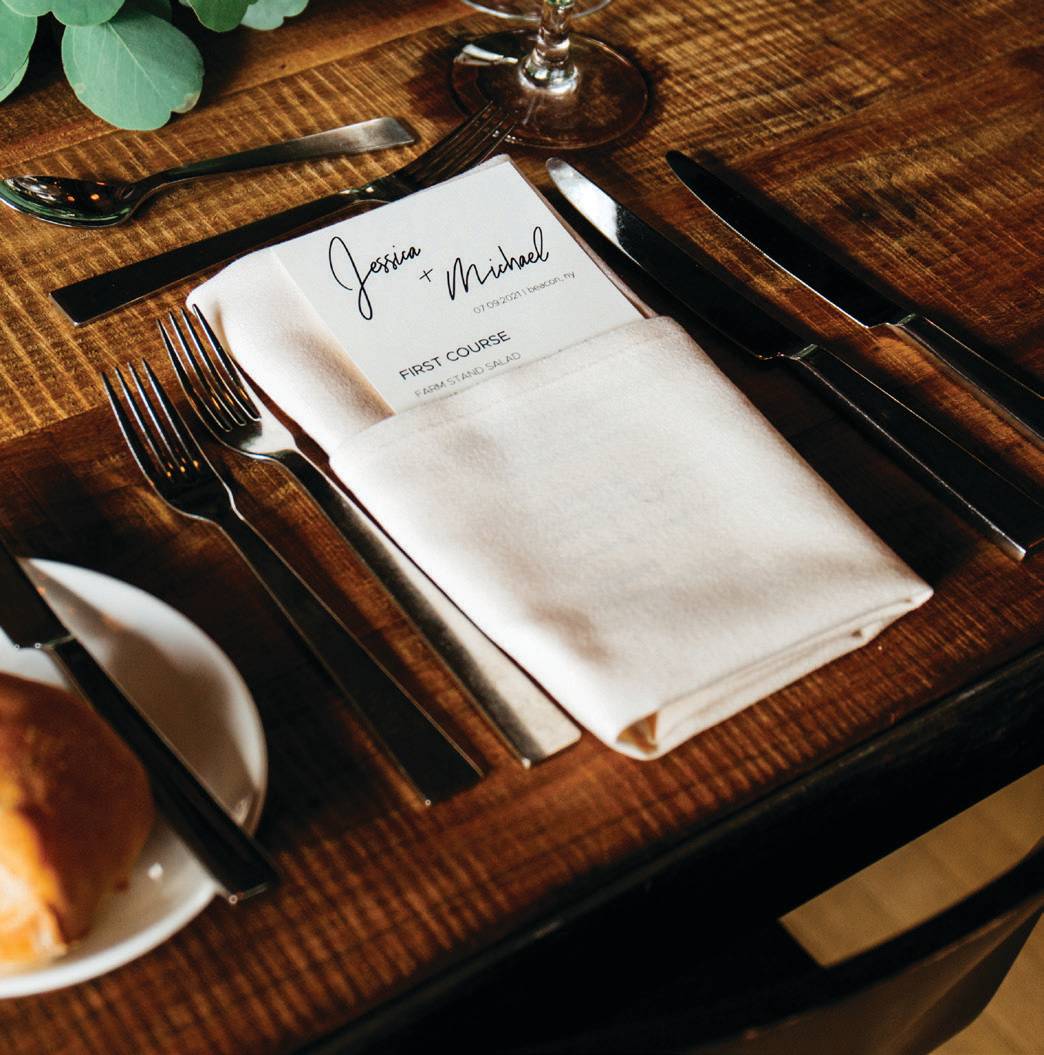 What's on the Menu?
The Roundhouse hosts small group tastings so couples can sample the food a few months before their wedding. At the same time, a variety of tablescapes are set up to highlight possible combos of tables, chairs, linens, dishes, and silverware. Bringing in a local DJ and florist makes the tasting feel even more like a legit party.
Choosing from among the many pages of options wasn't easy. "Ultimately, we just sat down and started picking things that we would want to eat," says Jessica. "And my dad had to have pigs in a blanket—for him, they were a must." Their final selections included beef skewers with chimichurri, a salmon and potato waffle with sour cream and caviar, fish crudo, beet meringue with goat cheese, and mushroom arancini.
As if there wasn't already enough food, Jessica and Michael couldn't resist some extra passed desserts—in addition to a showstopping cake, of course. Their sweet picks included salted caramel brownies, rice cereal pops, red velvet cream cheesecake pops, and dessert cones with chocolate. Jess muses, "Who doesn't love seeing some extra treats coming their way after a night of eating, drinking, and dancing?"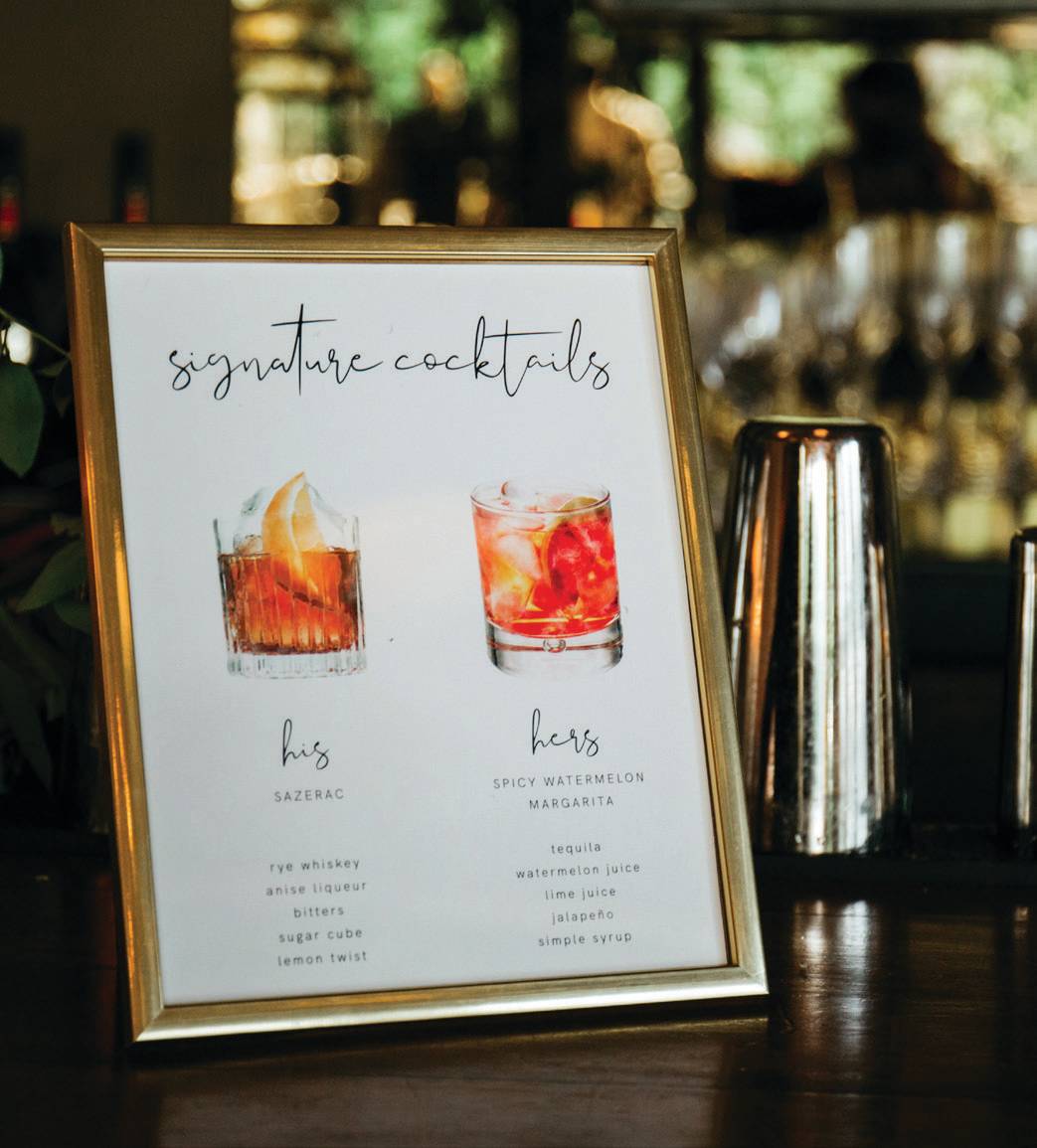 Food, Glorious Food
For this discerning couple, curating a just-right menu was top of mind from the get-go. "I come from a family of foodies," says Jess. Fortunately, The Roundhouse offers many great options. Their wish list:
Delicious and plentiful cocktail hour offerings, with a mix of elaborate charcuterie boards, stations, and passed hors d'oeuvres. Their overall objective was what Jessica calls "constant flow," so guests never had to wait long to get food.
One lighter and one meatier option for the main course. (Fun fact: When they go to weddings, Jessica and Michael usually split the fish and the meat.) They also sampled a cauliflower steak that was so delicious they added it as a silent vegetarian option. "I remember telling one of my friends to make sure someone ordered it," says Jessica.
Something light and summery for dessert. The winner: alternating tiers of classic white cake with chocolate mousse and lemon cake with raspberry mousse and vanilla buttercream frosting.
Their Dream Team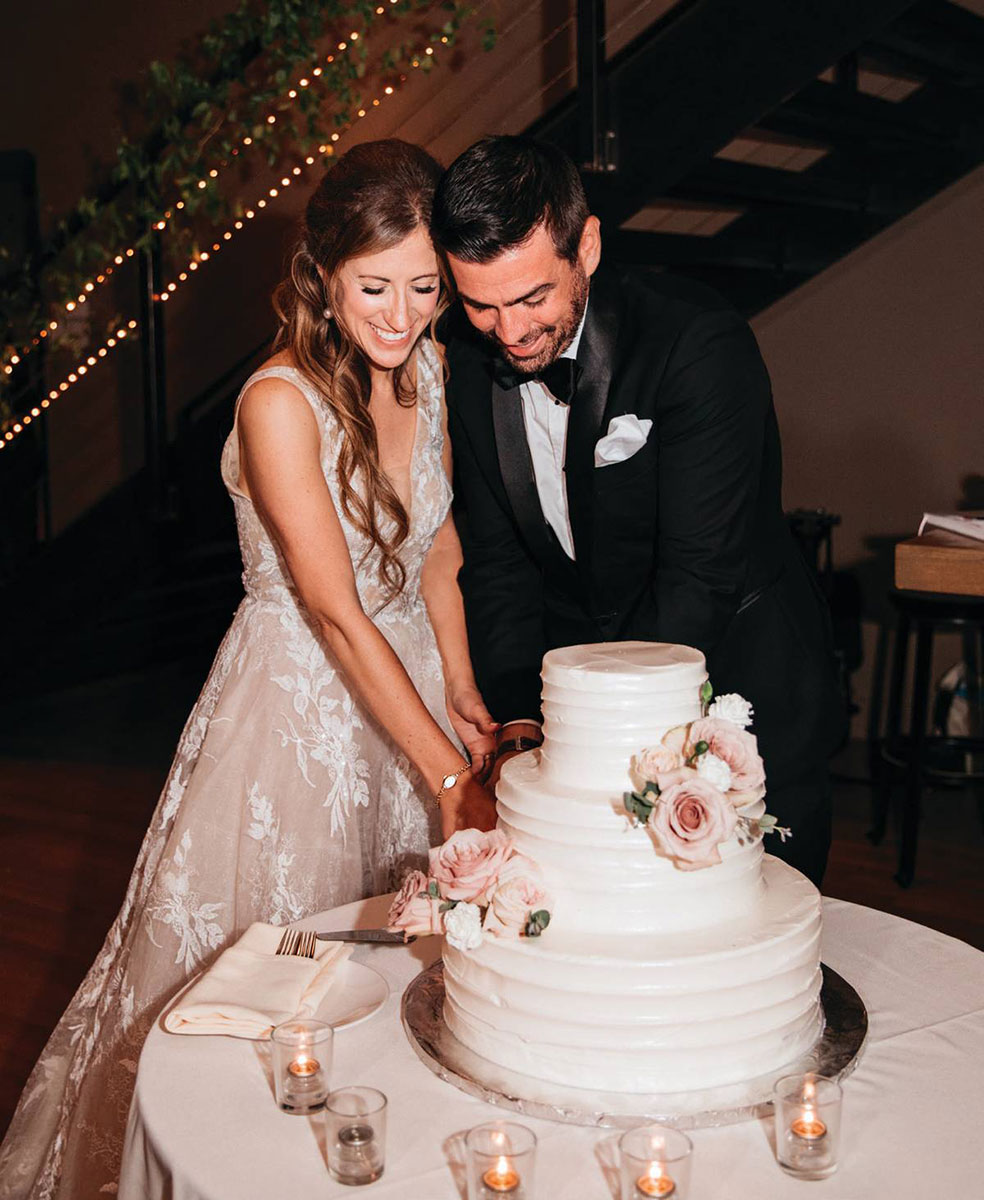 "I can't say enough about our amazing vendors," says Jess. "They really came through for us, even with all the Covid curveballs." Many are based in the Hudson Valley.
Photographer
Alicia Martire Photography
Fishkill
aliciamartire.com
Planner
Wild Blooms Bridal
Wappingers Falls
wildbloomsbridal.com
Venue
The Roundhouse
Beacon
roundhousebeacon.com
Florist
Kraft & Co.
Easton, PA
kraftandcompany.com
Caterer
The Roundhouse
Beacon
roundhousebeacon.com
Band
Velvet Radio, Element Music
New York City
elementmusic.com
Videographer
Yours Truly Media
Costa Mesa, CA
yourstrulymedia.com
Stationary
Shine Wedding Invitations
Rochester
shineweddinginvitations.com
Lighting
LNJ Tech Services
Beacon
lnjevents.com
Donuts
Glazed Over Donuts
Beacon
glazedoverdonuts.com
Hair & Makeup
Julie Occhino Luxury Beauty
Greenwich, CT
julieocchinoluxury.com
Dress
Monique Lhuillier
New York City
moniquelhuillier.com
Shoes
Badgley Mischka
Online
badgleymischka.com
Tux
Enzo Custom
New York City
enzocustom.com