City Winery wants to make Orange County the wine capital of the Hudson Valley. In its new location at the historic Montgomery Mills property, the multi-metropolis winery chain fuses the region's oenophile culture with the music and events for which the brand is known.
Owner Michael Dorf, who opened the Soho location in 2008 and also founded The Knitting Factory nightclub, spent more than two years scouting locales. He fell for the Montgomery site not just for its history and proximity to Manhattan, but also for its ample acreage.
An experience-driven setting, City Winery packs a café, tasting room, and venue for weddings and events. Inside the tasting room, visitors can sip wine on tap or pop the cork on one of the select reserve vintages on offer. To pair with the vino, the café serves everything from tapas-style shared plates to flatbreads and salads. The Hudson Valley location does produce its own wine — it completed its first crush in October using grapes flown in from Oregon and Washington — and plans to eventually generate enough to supply City Winery locations across the United States.
In ode to the property's 130-year-old past as a grist mill and yarn factory along the Wallkill River, City Winery features historic details like production rigs mounted to the ceiling, a yarn machine turned into a reception desk, and original paperwork and photos framed with refurbished wood planks from the mill itself.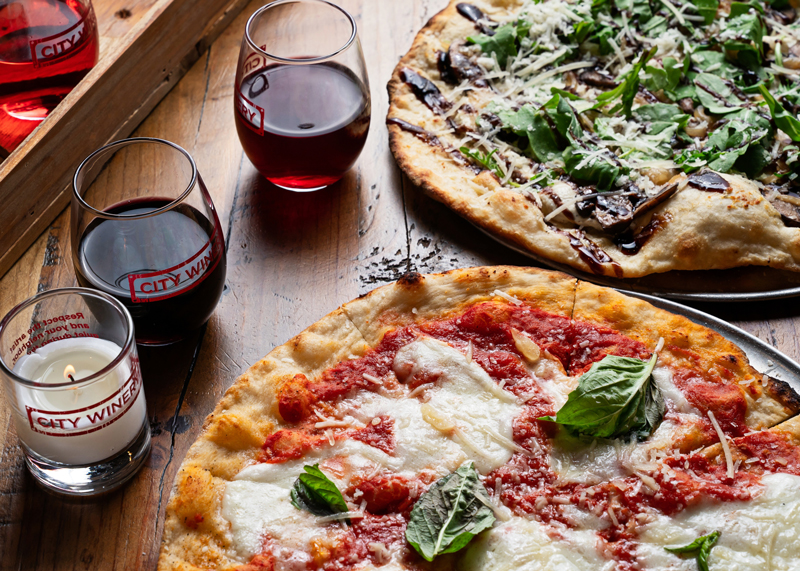 "We haven't thrown one thing out," says general manager Donna Caldwell. In addition to incorporating preserved mementos from the grounds into the winery's aesthetic, she also ships pieces to City Winery New York City (soon to reopen at Pier 57) for reuse.
While the wine and the atmosphere at City Winery are undeniable draws, the true pièce de résistance on the grounds is undoubtedly the barn. Set along the Wallkill River, the building houses the turbines that generate hydropower for the entirety of the Montgomery Mills space, thus enabling the winery to function as a net-zero facility.
"Twenty-two acres along a beautiful river with a waterfall [that allows us to generate] electricity with hydropower is very different from our other locations," says Dorf. Indeed, with its full reliance upon hydropower, combined with its on site wine production and 6,800-square-foot event space, the winery is just as ideal for weekend tastings as it is for scenic weddings. Guests will be able to grab a glass of wine Thursday–Sunday starting in early April. Coming later in 2020, City Winery will unveil its 1920s bridal barn loft with guest-room apartments, a 13-room conference center, and a hotel to follow in 2021.